Floor Coatings
One of the primary reasons that concrete is used so often in basements, garages, and business settings such as warehouses is because it is extremely durable and will hold up well in high traffic areas. Polyaspartic/Polyurea floor coatings are an advanced solution used to coat high use areas with an attractive, decorative finish. Concrete floor coatings create a much more aesthetically pleasing alternative to a regular slab of concrete. The cure time for these floor coating solutions is extremely fast, which results in quick application of the floor coating and less downtime for your home or business. Using these custom floor coatings is one of the best ways to enhance the look of your garage, kitchen, patio, pool, or business. You can choose from a variety of different floor coating options, each of which will provide a unique aesthetic value to the floors in your home.
BENEFITS:
Design Flexibility, many colors and textures available
Durable, resist most types of damage
Waterproof
Chemical resistant
Easy to maintain, using only a squeegee and stiff bristle broom
COMMON AREAS OF USE:
Retail Stores
Warehouses
Restaurants
Medical Facilities
Dog Kennels
Garages
Kitchens
Aircraft Hangars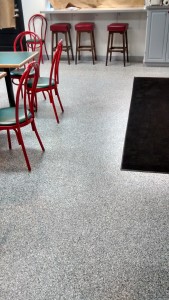 – See more at: http://aestheticconcretedesign.com/products/floorcoatings/#sthash.OqAwqYl4.dpuf
Concrete Acid Stain Finishes
Concrete acid stains provide a beautiful finish to any ordinary concrete floor. Concrete acid stain finishes can be used on concrete both inside and outside, and can be manipulated to resemble marble, glazed stone, or even stained or aged wood! Concrete stains are semi-transparent and are primarily used in order to enhance an otherwise normal slab of concrete. Once the acid stain reacts with the concrete, it becomes permanently bound to the concrete and will not fade or chip away. These stains will not hide cracks, chips, or any other flaws in the pre-existing concrete, nor do they entirely disguise the underlying color or texture of the concrete surface.
BENEFITS:
Design Flexibility, there are a large variety of colors and designs available
Unique, each stain reacts differently according to the surface it is applied to
Cost efficient
Durable, resistant to most types of damage
COMMON AREAS OF USE:
Residential and Commercial floors
Patios/Pool Areas
Driveways
Laundry Rooms
Entry ways
Living rooms
– See more at: http://aestheticconcretedesign.com/products/acid-stains/#sthash.Q877iWij.dpuf

Concrete Overlays
Concrete Overlays provide a way to cover minor flaws in existing concrete floors, both exterior and interior. One of the obvious benefits of using concrete overlays is that it enhances an otherwise boring slab of concrete and makes it much more aesthetically pleasing. One of the lesser known benefits of using concrete overlays is that it is a great way to cover over minor imperfections such as cracks and chips. However, the base for the concrete overlay has to be intact. Using concrete overlays is a much more cost effective solution to improving the status of your concrete compared with concrete removal or replacement costs. If you have major cracks, spalling, or heaving, odds are that concrete overlays will not solve your problem. In addition to being placed over concrete floors, concrete overlays can be placed over other sound floor surfaces such as wood.
BENEFITS:
Durable, resist most types of damage
Versatile, variety of colors and designs available
Customizable, can be stamped and textured to mimic brick, stone, tile, and other materials.
COMMON AREAS OF USE:
Patios/Pool Areas Driveways
See more at: http://aestheticconcretedesign.com/products/concrete-overlays/#sthash.owG49ptD.dpuf
Why Choose Aesthetic Concrete?
Aesthetic Concrete Design is a locally owned, family business in the Omaha and Gretna area.  We have been in concrete business for over 14 years, and have provided our customers with a wide array of concrete options that have enhanced their homes and business in ways they never thought possible! We build concrete structures using insulated concrete forms (ICF's), and we also provide a variety of services such as concrete home construction, custom concrete countertops and sinks, concrete floor coatings, vertical concrete and more.  We may be smaller than a lot of other companies, but with that you will receive a personal touch and attention to detail that often gets overlooked when you deal with larger companies. Choose Aesthetic Concrete, and let us show you what we can do for you!