Omaha Concrete Home Construction
If you are looking to build an energy efficient concrete home in Omaha, look no further than Aesthetic Concrete! We build completely custom concrete homes using insulated concrete forms (ICF's).  Insulated concrete forms are hollow blocks that are stacked to form the shape of the walls of a concrete home. The blocks are then filled with reinforced concrete to create the structure of your concrete home. ICF's are used for all types of building structures, whether it is residential, commercial, industrial, and institutional buildings.
Compared with typical home building materials, using concrete to build your Omaha home offers a number of benefits that you simply can't get with other materials.
Benefits:
Energy efficient – Concrete walls, specifically ICF walls, have a more even temperature so that there is a consistent temperature throughout all areas of the home.
Concrete home are exceptionally strong and durable
Insulated – the foam portion of the ICF block provides insulation
Resistant to natural disasters – ICF's survive high-force winds like tornados or hurricanes better than traditional construction methods.
Fire Resistant – Compared to other construction materials, concrete is one of the most resistant materials to heat and fire.
Airtight – ICF walls are virtually airtight, which helps to significantly cut down on dust and allergens
Quiet – Very little sound gets through an ICF wall compared to an ordinary frame wall.
Environmentally friendly – Concrete can be recycled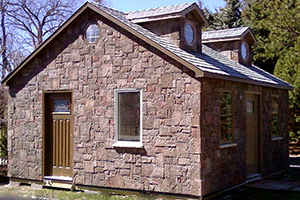 Why Choose Aesthetic Concrete?
Aesthetic Concrete Design is a locally owned, family business in the Omaha and Gretna area.  We have been in concrete business for over 14 years, and have provided our customers with a wide array of concrete options that have enhanced their homes and business in ways they never thought possible! We build concrete structures using insulated concrete forms (ICF's), and we also provide a variety of services such as concrete home construction, custom concrete countertops and sinks, concrete floor coatings, vertical concrete and more.  We may be smaller than a lot of other companies, but with that you will receive a personal touch and attention to detail that often gets overlooked when you deal with larger companies. Choose Aesthetic Concrete, and let us show you what we can do for you!